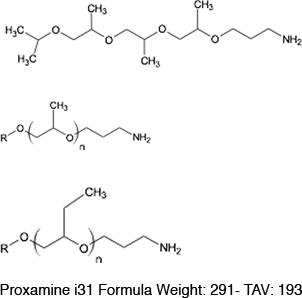 Proxamine Potash Mining Collectors- Safe handling, Cost-efficient and Liquid at < -24 C, 100% Active.
Proxamines are a family of ether amines based on polyalkoxylated monohydric alcohols that are then reacted with acrylonitrile to make the ether amines. Our Proxamines are available in various chain lengths of the hydrophobe. This allows for selectivity optimization. In Potash, brine concentration and other species present can cause the amine to collect more minerals than just the KCl, or not enough KCl. Typical fatty amines and ether amines go up in cost rapidly as the chain length increases. Proxamines have a stable per kilogram cost as the chain length increases, and:
Have very mild handling characteristics. They are much less corrosive to skin, eyes and equipment.
Do not need neutralization. Proxamines can be added neat to the process. No need for day tanks of soap solution and no need to handle hydrochloric acid. Eliminating hydrochloric acid makes the work environment much safer and pleasant for the workers, as well as eliminates the corrosive effects HCl has on structures and equipment.
Are liquid to <-24 C. Proxamines can be stored in poly totes and pumped directly into the process, eliminating the capital and utility cost of a heated bulk tank. Further, a heated bulk tank reduces the amine value (efficacy) of the tallow amine by as much as 30% per month in heated storage.
Work synergistically with frothers. Potentially saving a significant portion of your chemical spend.
Proxamines are covered under US Patent 9,481,634 and other pending applications.
Get in touch

Have any questions? Curious about new chemistry? We'd love to hear from you. Just fill out our contact form and we'll be in touch within 24 hours.