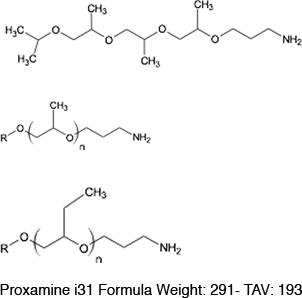 Proxamines Amines – Improved Selectivity and Mild Handling; Pumped Directly into your Process
Proxamines are a family of ether amines based on polyalkoxylated monohydric alcohols that are then reacted with acrylonitrile to make the ether amines. Proxamines based on propylene oxide have surfactancy properties beyond the typical ether amines based on Exxal alcohols or linear alcohols. And, lower pour points can be adjusted by selection of the R group. Our Proxamines are available:
in various chain lengths of the hydrophobe.
as primary and polyamines.
as tertiary amines.
as quaternary ammonium compounds and amine oxides.
as betaines.
as acetate, and other salts.
Proxamines are covered under US Patent 9,481,634 and other pending applications.
Get in touch

Have any questions? Curious about new chemistry? We'd love to hear from you. Just fill out our contact form and we'll be in touch within 24 hours.